FREE IN-TOWN Rx DELIVERY
Can't make it in to see us? No problem, we offer free prescription delivery anywhere in Orangeville.
ON-SITE COMPOUNDING
We have two PCCA equipped compounding labs in Orangeville to fill your custom medications.
FREE PARKING
Conveniently located next to the Headwaters Health Care Centre, we also have free parking validation.
FREE pharmacy parking.
Please bring in your ticket for validation.
Rolling Hills Pharmacy
Monday to Friday – 9:30am to 7:00pm
Saturday – 9:30am to 2:00pm
Sunday – Closed

Riddell Park Pharmacy
Monday to Friday – 10:00am to 6:00pm
Saturday – Closed
Sunday – Closed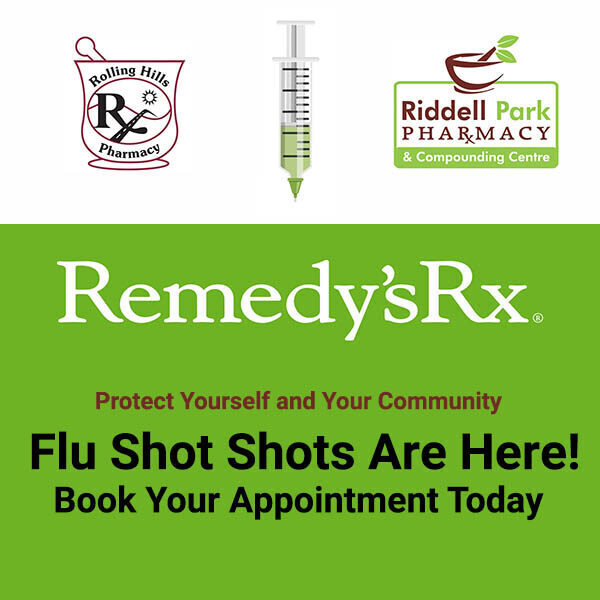 Time to Book Your Flu Shot
Rolling Hills Pharmacy and Riddell Park Pharmacy are committed to helping you stay healthy all season long.


Orangeville's #1 Pharmacy!
Since we opened the Rolling Hills Pharmacy in 2005 and the Riddell Park Pharmacy, we have been fortunate enough to care for patients not only in Orangeville but all over Dufferin County. Every day we are driven to ensure that your well-being is our top priority. We appreciate that you have put your trust in us for 15 years and we will continue to work hard to remain Orangeville's #1 pharmacy.
COMPOUNDING LABS
Compounding labs prepare medications that are tailored to the specific needs of a patient. You can order your custom prescriptions at the Rolling Hills or Riddell Park location.
MEDICAL SUPPLIES
In addition to pharmacy services we also offer a wide-range of medical equipment from braces and supports to cervical pillows and back rests.
VACCINATIONS
Whether you need a travel vaccination or the annual flu shot, we have a range of medications to help keep you safe and healthy.
Rolling Hills Pharmacy Hours
Monday 9:30am – 7:00pm
Tuesday 9:30am – 7:00pm
Wednesday 9:30am – 7:00pm
Thursday 9:30am – 7:00pm
Friday 9:30am – 7:00pm
Saturday 9:30am – 2:00pm
Sunday – Closed
Riddell Park Pharmacy Hours
Monday 10:00am – 6:00pm
Tuesday 10:00am – 6:00pm
Wednesday 10:00am – 6:00pm
Thursday 10:00am – 6:00pm
Friday 10:00am – 6:00pm
Saturday – Closed
Sunday – Closed
"My family has been going to Rolling Hills Pharmacy since it first opened in 2005. Sanjay and his team have become a staple of the medical community and there is no one else I would trust with my family's health. They really are Orangeville's #1 pharmacy."
Jason Ruby